Featured
În presă
Greenwich, Conn. | Mar. 18, 2021
XPO Logistics, Inc. (NYSE: XPO), a leading global provider of supply chain solutions, today announced the identity of the new company that has been created in connection with the planned spin-off of XPO's logistics business. The company is named GXO Logistics, Inc. and will go to market with the tagline "Logistics at full potential."
Comunicat de presă
Greenwich, Conn. and Dusseldorf, Germany | iun.. 8, 2023
GXO deschide un depozit ultramodern pe cea mai mare piață logistică din Europa
Comunicat de presă
Greenwich, USA | iun.. 5, 2023
GXO câștigă și mai mult teren în topul celor mai bune companii din America
Comunicat de presă
Madrid, Spain | iun.. 2, 2023
GXO recognized on Forbes' 2023 "Best Place to Work" list for fourth consecutive year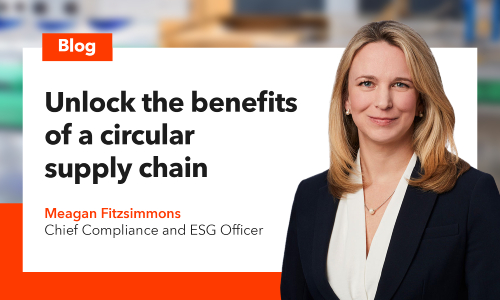 Article
Meagan Fitzsimmons, Chief Compliance and ESG Officer | mai 22, 2023
Descoperiți modul în care mărcile de succes participă la economia circulară și valorifică logistica de depozitare pentru a maximiza valoarea, reducând în același timp deșeurile.
Bloguri
Bill Fraine, Chief Commercial Officer | apr.. 18, 2023
This Belonging Week, Bill Fraine shares the eye-opening event leading him to become an ally to diverse candidates and colleagues, and his approach to allyship.
Bloguri
Tony Mannix, Strategic Advisor – Retail Logistics, GXO | mart.. 27, 2023
Tony Mannix dives into the evolving world of retail logistics, the rise of shared warehousing, and the launch of GXO Direct in the U.K.
---
În presă
Bloomberg | mai 15, 2023
Mark Manduca, director de investiții, vorbește despre tendințele de regionalizare, despre trecerea clienților la automatizare, despre pregătirea pentru sezonul de vârf și multe altele.[Articol în limba engleză]
În presă
Forbes | mai 12, 2023
Președintele diviziei, Steve Lewis, a împărtășit modul în care Blue Yonder și GXO au accelerat împreună timpul de implementare.[Articol în limba engleză]
În presă
FreightWaves | mai 10, 2023
Freightwaves analizează rezultatele record ale GXO din primul trimestru. [Articol în limba engleză]
---
Comunicat de presă
Lyon, France | June 22, 2021
XPO has been awarded a multiyear contract by electrolux to manage its logistics operations in France
Comunicat de presă
Greenwich, Conn. | June 18, 2021
XPO Logistics Recognized for Environmental Sustainability as a Green 75 Supply Chain Partner
Comunicat de presă
Greenwich, Conn. | June 15, 2021
XPO Logistics announces Meagan Fitzsimmons as Chief Compliance Officer for GXO Logistics
Primiți cele mai recente
noutăți în domeniul logisticii