Featured
În presă
Greenwich, Conn. | Mar. 18, 2021
XPO Logistics, Inc. (NYSE: XPO), a leading global provider of supply chain solutions, today announced the identity of the new company that has been created in connection with the planned spin-off of XPO's logistics business. The company is named GXO Logistics, Inc. and will go to market with the tagline "Logistics at full potential."
Comunicat de presă
Greenwich, USA | dec.. 7, 2023
Recognized by Newsweek magazine as one of America's 'Most Responsible' companies for second consecutive year.
Comunicat de presă
Greenwich, USA | dec.. 6, 2023
Conceput pentru a manipula mărfuri, robotul va crește siguranța permițand totodată angajaților să efectueze mai multe activități cu valoare adăugată
Comunicat de presă
London, UK | nov.. 29, 2023
GXO to operate a dedicated warehousing and transport service to distribute beer, wines, spirits and minerals for brewer Shepherd Neame.
Bloguri
Retail Logistics, GXO | nov.. 9, 2023
Discover more about this year's holiday trends and learn how retailers can best prepare for the last-minute…
Article
iun.. 28, 2023
Prin preluarea de către GXO a unităților dvs. existente, puteți elibera rapid resurse, reduce costurile, maximiza flexibilitatea și menține capacitatea de creștere pe termen lung.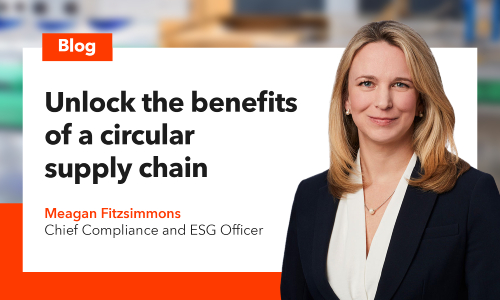 Article
Meagan Fitzsimmons, Chief Compliance and ESG Officer | mai 22, 2023
Descoperiți modul în care mărcile de succes participă la economia circulară și valorifică logistica de depozitare pentru a maximiza valoarea, reducând în același timp deșeurile.
---
În presă
CNBC | nov.. 9, 2023
CEO-ul Malcolm Wilson vorbește despre economia globală și despre modul în care GXO câștigă cotă de piață prin noi afaceri. (Articol în limba engleză)
În presă
Transport Topics | nov.. 8, 2023
Transport Topics analizează rezultatele solide obținute de GXO în al treilea trimestru. (Articol în limba engleză)
În presă
Raconteur | oct.. 27, 2023
Tony Mannix explică modul în care modelul de depozitare colectivă al GXO Direct poate ajuta companiile să obțină o mai mare eficiență a costurilor și flexibilitate în operațiunile din lanțul de aprovizionare. (Articol în limba engleză)
---
Comunicat de presă
Lyon, France | June 22, 2021
XPO has been awarded a multiyear contract by electrolux to manage its logistics operations in France
Comunicat de presă
Greenwich, Conn. | June 18, 2021
XPO Logistics Recognized for Environmental Sustainability as a Green 75 Supply Chain Partner
Comunicat de presă
Greenwich, Conn. | June 15, 2021
XPO Logistics announces Meagan Fitzsimmons as Chief Compliance Officer for GXO Logistics
Primiți cele mai recente
noutăți în domeniul logisticii