Featured
In het nieuws
Greenwich, Conn. | Mar. 18, 2021
XPO Logistics, Inc. (NYSE: XPO), a leading global provider of supply chain solutions, today announced the identity of the new company that has been created in connection with the planned spin-off of XPO's logistics business. The company is named GXO Logistics, Inc. and will go to market with the tagline "Logistics at full potential."
Persbericht
Madrid, Spain | jun. 2, 2023
GXO recognized on Forbes' 2023 "Best Place to Work" list for fourth consecutive year
Persbericht
Lyon, France | mei 30, 2023
Bigblue, which offers brands and online stores fulfillment services, started its partnership with GXO in Spain, now includes France.
Persbericht
London, UK | mei 23, 2023
GXO and Kellogg will continue to deliver continuous improvement initiatives at operations that span five countries and eight sites.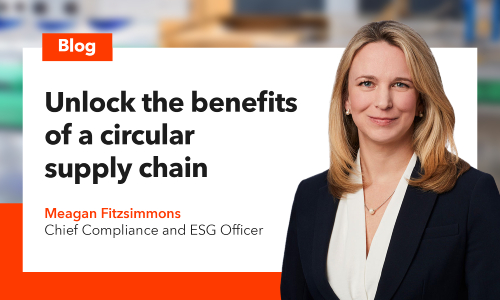 Article
Meagan Fitzsimmons, Chief Compliance and ESG Officer | mei 22, 2023
Discover how successful brands are participating in the circular economy and leveraging warehouse logistics to maximize value while minimizing waste.
Blog
Bill Fraine, Chief Commercial Officer | apr. 18, 2023
This Belonging Week, Bill Fraine shares the eye-opening event leading him to become an ally to diverse candidates and colleagues, and his approach to allyship.
Blog
Tony Mannix, Strategic Advisor – Retail Logistics, GXO | mrt. 27, 2023
Tony Mannix dives into the evolving world of retail logistics, the rise of shared warehousing, and the launch of GXO Direct in the U.K.
---
In het nieuws
Bloomberg | mei 15, 2023
Chief Investment Officer Mark Manduca discusses nearshoring trends, customers shifting to automation, peak season prep and a whole lot more.
In het nieuws
Forbes | mei 12, 2023
Division President Steve Lewis shared how Blue Yonder and GXO speed up implementation time together.
In het nieuws
FreightWaves | mei 10, 2023
Freightwaves looks at GXO's record first-quarter results.
---
Persbericht
Lyon, France | June 22, 2021
XPO sluit meerjarencontract af met Electrolux voor logistiek beheer in Frankrijk
Persbericht
Greenwich, Conn. | June 18, 2021
XPO Logistics erkend als Green 75 Supply Chain Partner
Persbericht
Greenwich, Conn. | June 15, 2021
XPO Logistics maakt naam Meagan Fitzsimmons bekend als Chief Compliance Officer voor spin-off GXO Logistics
Blijf op de hoogte van wat
nieuw is in de logistiek