Featured
Nelle news
Greenwich, Conn. | 18 Marzo 2021
XPO Logistics, Inc. (NYSE: XPO), a leading global provider of supply chain solutions, today announced the identity of the new company that has been created in connection with the planned spin-off of XPO's logistics business. The company is named GXO Logistics, Inc. and will go to market with the tagline "Logistics at full potential."
Comunicato stampa
Paris, France | Nov. 28, 2023
Highly automated site in France taking over returns for Amer Sports, a GXO partner for nearly a decade.
Comunicato stampa
Warsaw, Poland | Nov. 22, 2023
Le aziende festeggiano il 15° anniversario di collaborazione per ottimizzare la logistica per il leader mondiale dell'industria della salute e della bellezza
Comunicato stampa
DORMAGEN, Germany | Nov. 14, 2023
GXO ServiceTech, specializzata in riparazioni, aggiornamenti e resi di elettronica di consumo, opera ora in un nuovo magazzino all'avanguardia vicino a Düsseldorf
Blog
Retail Logistics, GXO | Nov. 9, 2023
Discover more about this year's holiday trends and learn how retailers can best prepare for the last-minute…
Article
Giu. 28, 2023
Far rilevare a GXO le vostre attuali strutture può liberare rapidamente risorse, ridurre i costi, massimizzare la flessibilità e mantenere lo sviluppo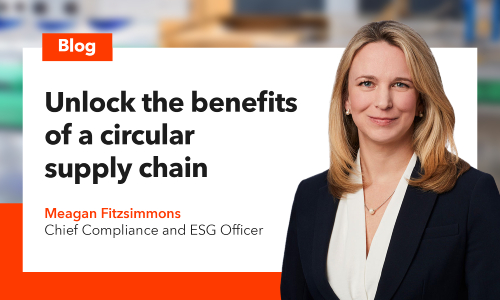 Article
Meagan Fitzsimmons, Chief Compliance and ESG Officer | Mag 22, 2023
Scoprite come i brand di successo partecipano all'economia circolare e sfruttano la logistica per massimizzare il valore e ridurre al minimo gli sprechi.
---
Nelle news
CNBC | Nov. 9, 2023
CEO Malcolm Wilson talks about the global economy and how GXO is taking market share through new business
Nelle news
Transport Topics | Nov. 8, 2023
Transport Topics looks at GXO's strong third-quarter results.
Nelle news
Raconteur | Ott. 27, 2023
Tony Mannix explains how GXO Direct's shared warehousing model can support companies with greater cost-efficiency and flexibility in their supply chain operations.
---
Comunicato stampa
Lyon, France | June 22, 2021
XPO ha vinto un contratto pluriennale con Electrolux per la gestione della sua logistica in Francia
Comunicato stampa
Greenwich, Conn. | June 18, 2021
XPO Logistics è stata riconosciuta per la sostenibilità ambientale come Green 75 Supply Chain Partner
Comunicato stampa
Greenwich, Conn. | June 15, 2021
XPO Logistics nomina Meagan Fitzsimmons come Chief Compliance Officer di GXO Logistics
Ricevete gli ultimi aggiornamenti
sulle novità della logistica