Featured
In the news
Greenwich, Conn. | Mar. 18, 2021
XPO Logistics, Inc. (NYSE: XPO), a leading global provider of supply chain solutions, today announced the identity of the new company that has been created in connection with the planned spin-off of XPO's logistics business. The company is named GXO Logistics, Inc. and will go to market with the tagline "Logistics at full potential."
Tisková zpráva
Greenwich, Conn. and Dusseldorf, Germany | Čvn. 8, 2023
GXO otevírá moderní sklad na největším evropském logistickém trhu
Tisková zpráva
Greenwich, USA | Čvn. 5, 2023
GXO gains even more ground among America's best companies
Tisková zpráva
Madrid, Spain | Čvn. 2, 2023
GXO recognized on Forbes' 2023 "Best Place to Work" list for fourth consecutive year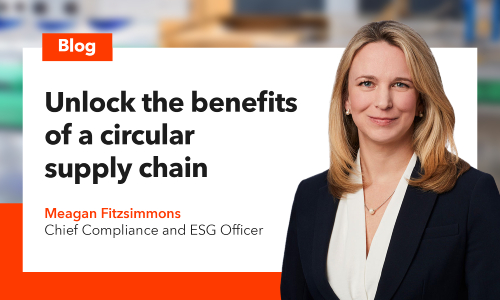 Article
Meagan Fitzsimmons, Chief Compliance and ESG Officer | Kvě 22, 2023
Discover how successful brands are participating in the circular economy and leveraging warehouse logistics to maximize value while minimizing waste.
Blogy
Bill Fraine, Chief Commercial Officer | Dub. 18, 2023
This Belonging Week, Bill Fraine shares the eye-opening event leading him to become an ally to diverse candidates and colleagues, and his approach to allyship.
Blogy
Tony Mannix, Strategic Advisor – Retail Logistics, GXO | Bře. 27, 2023
Tony Mannix dives into the evolving world of retail logistics, the rise of shared warehousing, and the launch of GXO Direct in the U.K.
---
In the news
Bloomberg | Kvě 15, 2023
Chief Investment Officer Mark Manduca discusses nearshoring trends, customers shifting to automation, peak season prep and a whole lot more.
In the news
Forbes | Kvě 12, 2023
Division President Steve Lewis shared how Blue Yonder and GXO speed up implementation time together.
In the news
FreightWaves | Kvě 10, 2023
Freightwaves looks at GXO's record first-quarter results.
---
Tisková zpráva
Lyon, France | June 22, 2021
XPO has been awarded a multiyear contract by electrolux to manage its logistics operations in France
Tisková zpráva
Greenwich, Conn. | June 18, 2021
XPO Logistics Recognized for Environmental Sustainability as a Green 75 Supply Chain Partner
Tisková zpráva
Greenwich, Conn. | June 15, 2021
XPO Logistics announces Meagan Fitzsimmons as Chief Compliance Officer for GXO Logistics
Mějte přehled o tom, co
je nového v logistice