Featured
Aktualności
Greenwich, Conn. | Mar. 18, 2021
XPO Logistics, Inc. (NYSE: XPO), a leading global provider of supply chain solutions, today announced the identity of the new company that has been created in connection with the planned spin-off of XPO's logistics business. The company is named GXO Logistics, Inc. and will go to market with the tagline "Logistics at full potential."
Komunikat prasowy
Greenwich, USA | gru. 7, 2023
Recognized by Newsweek magazine as one of America's 'Most Responsible' companies for second consecutive year.
Komunikat prasowy
Greenwich, USA | gru. 6, 2023
GXO helping to shape development of Agility Robotics' 'Digit' robot in tests at the SPANX facility outside Atlanta.
Komunikat prasowy
London, UK | lis. 29, 2023
GXO to operate a dedicated warehousing and transport service to distribute beer, wines, spirits and minerals for brewer Shepherd Neame.
Blog
Retail Logistics, GXO | lis. 9, 2023
Dowiedz się więcej o aktualnych trendach przedświątecznych zakupów i zobacz, jak prelacy mogą najlepiej się do nich przygotować
Artykuł
cze. 28, 2023
Przejęcie istniejących obiektów przez GXO może szybko uwolnić zasoby, obniżyć koszty, zmaksymalizować elastyczność i zapewnić długoterminowy wzrost.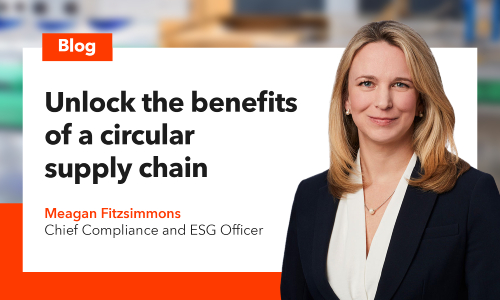 Artykuł
Meagan Fitzsimmons, Chief Compliance and ESG Officer | maj 22, 2023
Dowiedz się, jak marki odnoszą sukcesy w gospodarce o obiegu zamkniętym i wykorzystują logistykę do zwiększania wartości przy jednoczesnej minimalizacji odpadów.
---
Aktualności
CNBC | lis. 9, 2023
Dyrektor generalny Malcolm Wilson mówi o globalnej gospodarce i o tym, jak GXO przejmuje udział w rynku dzięki nowej działalności. [Artykuł po angielsku]
Aktualności
Transport Topics | lis. 8, 2023
Transport Topics analizuje dobre wyniki GXO za trzeci kwartał. [Artykuł po angielsku]
Aktualności
Raconteur | paź. 27, 2023
Tony Mannix wyjaśnia, jak logistyka współdzielona GXO Direct pomaga zwiększyć efektywność kosztową i elastyczność łańcuchów dostaw. [Artykuł po angielsku]
---
Komunikat prasowy
Lyon, France | June 22, 2021
XPO has been awarded a multiyear contract by electrolux to manage its logistics operations in France
Komunikat prasowy
Greenwich, Conn. | June 18, 2021
XPO Logistics Recognized for Environmental Sustainability as a Green 75 Supply Chain Partner
Komunikat prasowy
Greenwich, Conn. | June 15, 2021
XPO Logistics announces Meagan Fitzsimmons as Chief Compliance Officer for GXO Logistics
Otrzymuj najnowsze informacje o
nowościach w logistyce