Featured
In the news
Greenwich, Conn. | Mar. 18, 2021
XPO Logistics, Inc. (NYSE: XPO), a leading global provider of supply chain solutions, today announced the identity of the new company that has been created in connection with the planned spin-off of XPO's logistics business. The company is named GXO Logistics, Inc. and will go to market with the tagline "Logistics at full potential."
Press release
Greenwich, USA | Dec. 7, 2023
Recognized by Newsweek magazine as one of America's 'Most Responsible' companies for second consecutive year.
Press release
Greenwich, USA | Dec. 6, 2023
GXO helping to shape development of Agility Robotics' 'Digit' robot in tests at the SPANX facility outside Atlanta.
Press release
London, UK | Nov. 29, 2023
GXO to operate a dedicated warehousing and transport service to distribute beer, wines, spirits and minerals for brewer Shepherd Neame.
Blog
Retail Logistics, GXO | Nov. 9, 2023
Discover more about this year's holiday trends and learn how retailers can best prepare for the last-minute…
Article
Jun. 28, 2023
Having GXO take over your existing facilities can quickly free up resources, reduce costs, maximize flexibility and maintain capacity for long-term growth.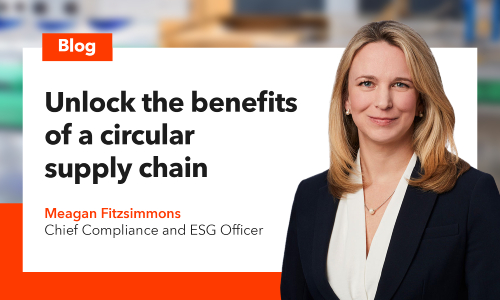 Article
Meagan Fitzsimmons, Chief Compliance and ESG Officer | May 22, 2023
Discover how successful brands are participating in the circular economy and leveraging warehouse logistics to maximize value while minimizing waste.
---
In the news
CNBC | Nov. 9, 2023
CEO Malcolm Wilson talks about the global economy and how GXO is taking market share through new business
In the news
Transport Topics | Nov. 8, 2023
Transport Topics looks at GXO's strong third-quarter results.
In the news
Raconteur | Oct. 27, 2023
Tony Mannix explains how GXO Direct's shared warehousing model can support companies with greater cost-efficiency and flexibility in their supply chain operations.
---
Press release
Lyon, France | June 22, 2021
XPO has been awarded a multiyear contract by electrolux to manage its logistics operations in France
Press release
Greenwich, Conn. | June 18, 2021
XPO Logistics Recognized for Environmental Sustainability as a Green 75 Supply Chain Partner
Press release
Greenwich, Conn. | June 15, 2021
XPO Logistics announces Meagan Fitzsimmons as Chief Compliance Officer for GXO Logistics
Get the latest updates on
what's new in logistics