Featured
In den Nachrichten
Greenwich, Conn. | Mar. 18, 2021
XPO Logistics, Inc. (NYSE: XPO), a leading global provider of supply chain solutions, today announced the identity of the new company that has been created in connection with the planned spin-off of XPO's logistics business. The company is named GXO Logistics, Inc. and will go to market with the tagline "Logistics at full potential."
Pressemitteilung
Greenwich, USA | Dez. 7, 2023
Recognized by Newsweek magazine as one of America's 'Most Responsible' companies for second consecutive year.
Pressemitteilung
Greenwich, USA | Dez. 6, 2023
GXO helping to shape development of Agility Robotics' 'Digit' robot in tests at the SPANX facility outside Atlanta.
Pressemitteilung
London, UK | Nov. 29, 2023
GXO to operate a dedicated warehousing and transport service to distribute beer, wines, spirits and minerals for brewer Shepherd Neame.
Blog
Retail Logistics, GXO | Nov. 9, 2023
Discover more about this year's holiday trends and learn how retailers can best prepare for the last-minute…
Bericht
Jun. 28, 2023
Bei der Übernahme Ihrer Lager durch GXO, können Sie Kosten senken, Flexibilität maximieren und die Kapazität für langfristiges Wachstum erhalten.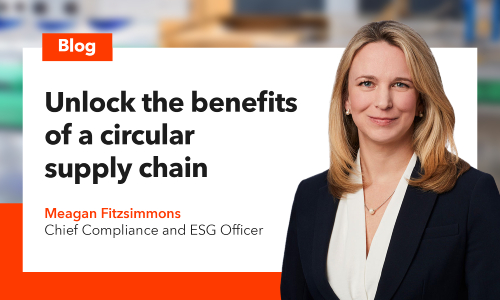 Bericht
Meagan Fitzsimmons, Chief Compliance and ESG Officer | Mai 22, 2023
Hier erfahren Sie, wie erfolgreiche Marken an der Kreislaufwirtschaft teilnehmen und die Lagerlogistik nutzen für die Wertmaximierung und Abfallreduzierung.
---
In den Nachrichten
CNBC | Nov. 9, 2023
CEO Malcolm Wilson spricht über die globale Wirtschaft und wie GXO durch neue Geschäfte Marktanteile gewinnt
In den Nachrichten
Transport Topics | Nov. 8, 2023
Transport Topics befasst sich mit den starken Ergebnissen von GXO im dritten Quartal.
In den Nachrichten
Raconteur | Okt. 27, 2023
Tony Mannix erklärt, wie das Shared-Warehousing-Modell von GXO Direct Unternehmen zu mehr Kosteneffizienz und Flexibilität in ihrer Lieferkette verhelfen kann.
---
Pressemitteilung
Lyon, France | June 22, 2021
XPO has been awarded a multiyear contract by electrolux to manage its logistics operations in France
Pressemitteilung
Greenwich, Conn. | June 18, 2021
A XPO Logistics é reconhecida pela sua sustentabilidade ambiental como parceira da cadeia de abastecimento Green 75
Pressemitteilung
Greenwich, Conn. | June 15, 2021
XPO Logistics announces Meagan Fitzsimmons as Chief Compliance Officer for GXO Logistics
Informieren Sie sich über
neueste Entwicklungen in der Logistik